The know-how acquired in the use of carbon fiber, glass or aramid finds applications as well in the shipbuilding industry, aeronautics, architecture, industry and sport.
The vision of DECISION in January 1984: "We want our customers to benefit of our ability in developing and manufacturing innovative composite structures and of our close collaboration with the R & D departments of our suppliers as well as research institutes such as the EPFL."
Since its creation DECISION has mainly been active in boatbuilding, producing offshore racing prototypes, America's Cup boats for Alinghi, inshore regatta boats for Lake Geneva, motor yachts and professional rescue and passenger transport boats.
Since 2000, our activity has also turned towards Aeronautics as we became the primary supplier of carbon structures for the Solar Impulse project.
On Decembre 20th 2013, the french company Multiplast SAS and the Swiss one Decision S.A. are bringing together their work force in a new group: Groupe Carboman S.A.
With this partnership, this new industrial group, chaired by Dominique Dubois and specialising in the manufacture of composite parts, becomes the European leader in race boat building and the production of large industrial parts.
Carry out the most ambitious projects
Multiplast and Decision both started their business in the early '80s and share the same vision and values: An attention to the highest level of detail, embracing the newest technologies and forging meaningful, team spirit. The two companies made their names through a high level of expertise in manufacturing composite structures, the large number of winning race boats that have been produced in their boat yards, and their capacity to take up the most ambitious technical challenge.
Bertrand Cardis, Commercial manager of Groupe Carboman said: « By joining our design office teams and our human resources, and by combining the production capabilities available in Decision in Switzerland and Multiplast in France, Groupe Carboman can now offer a global answer to major contractors. »
The aim of the new group is to keep opening the business to the major players in a number of industry sectors, such as aerospace and communication, as well as the luxury goods industry. It also serves to confirm the business's position as a leader in the world of racing yachts.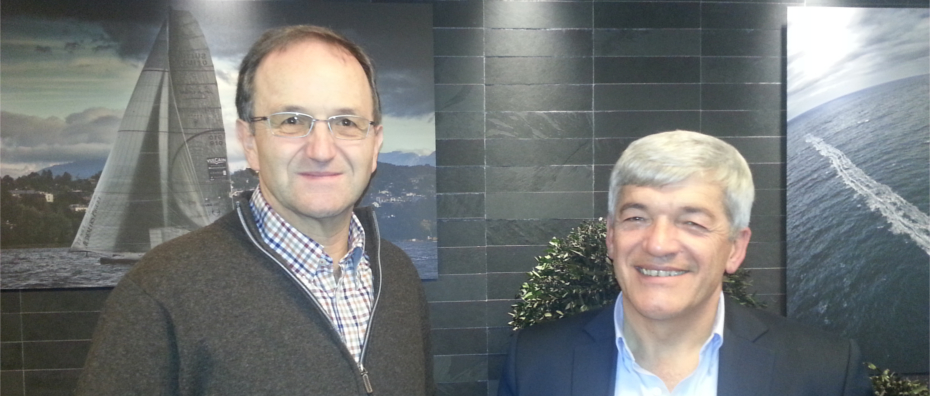 Bertrand Cardis
Founder
and
Dominique Dubois
Chairman of the board of Directors.
On Septembre 1st 2016, after more than 30 years as General Manager of Decision SA, Bertrand Cardis has asked to step down from the business's operational management in order to devote part of his time to new projects.
Decision's Board of Directors has asked M. Grégoire Metz, who has long-term and renowned experience in the field of composite materials, to take the helm of the company. He will take up his post on the 1st of September as General Manager of Decision S.A.
Bertrand Cardis remains Decision S.A.'s Director, as well as shareholder and Director of Groupe Carboman S.A., owner of the Swiss company. He will be responsible for overseeing the integration of the new general manager and for developing special projects for Groupe Carboman S.A.
The Board of Directors is delighted to retain Bertrand Cardis's expertise, as well as to be able to employ Grégoire Metz's energy and new skills to meet the different and exciting challenges expected for the coming years."

Bertrand Cardis
Administrator
and
Grégoire Metz
new

General Manager

.