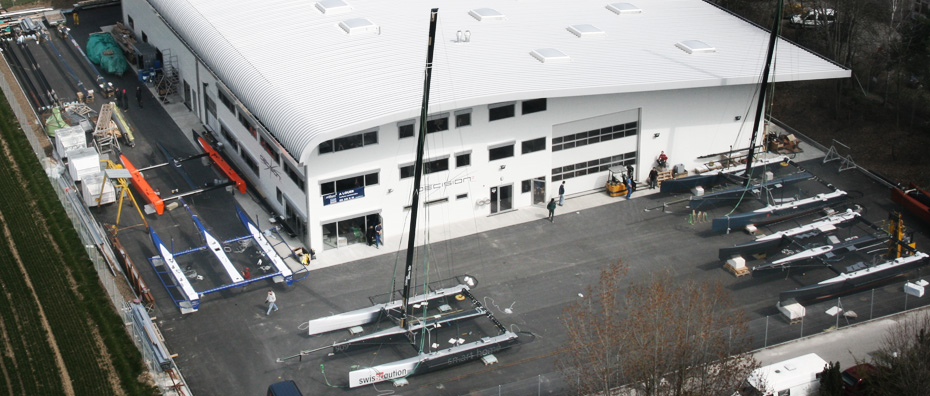 The steel framed shed has a floor size of 50 by 35 meters with a height of 10meters. The office section sports 2 floors, one of which is rented out. The shop is mainly on one level, greatly simplifying the handling of large structures.
We are setup and equipped to manufacture large composite structures, from designing to painting.
Our production facilities offers 1600sqm of floor space notably made up of:
One main shop 35 by 20 meters equipped with:
One autoclave, 2,2m x 6m internal dimensions, temperature 250°C, pressure 10 bars.
One 300KW oven, capable of handling parts in excess of 25 by 7 meters, the ideal tool for large pre-preg parts like hulls, decks, wing spars...
One 36KW oven, 13 by 5 meters, used mainly for smaller boats, bulkheads and general structures.
One 9KW oven, 4 by 2 meters, used to cure small structures and parts.
One secondary shop 20 by 15 meters equipped with:
One 22KW oven, 18 by 2.5 meters used mainly for multihull hulls and crossbeams and longitudinal structures.
One 5 axis CNC milling machine
One CAM table for precise cutting of uncured composites. Video of our cutting table at work.
One clean room used for laying up small pre preg parts.
One mixing room used for preparing resin.
One woodworking shop equipped for tooling manufacturing.
One mechanical shop equipped with a lathe and a milling machine to make custom parts.
One paint booth for those glossy finishes.
One grinding container with air control dedicated to trimming and fitting of cured carbon parts.
Two 20' freezer containers for the storage of curent pre-pregs at -18C°
500sqm of storage space for supplies and tooling.